Optit's project on optimising maintenance planning for district heating networks in Brescia (A2A) awarded at the Nottingham Symposium of the International Energy Agency.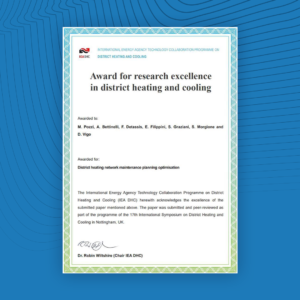 We had already reported on our presence at the 17th IEA Symposium, Technology Collaboration Programme on District Heating & Cooling, where we presented a pioneering project on maintenance planning for district heating networks carried out with A2A Calore e Servizi and the recently completed UpgradeDH Project, aimed at modernising and improving the performance of District Energy systems in Europe.
It is with great satisfaction that we can now announce that the Brescia project has been awarded by the IEA for its Excellence in Research!
The ability to use data from more than 20 years of interventions on the grid to derive infrastructure survival curves and, on this basis, to define optimised strategies for planned interventions, evaluating on a statistical basis how different investment budgets impact on the long-term value and sustainability of the system, was of great interest to the scientific and industrial community attending the important event, which takes place every two years.
This award rewards, together with Optit's team, the quality of the collaboration with A2A Calore e Servizi, our partner and customer for several years now, which has contributed with valuable data, accumulated over more than 3 decades, unparalleled experience in the management of district heating systems and the vision and courage to explore innovative approaches to decision management.
The details of the talk will be published in the special issue of Energy Reports, currently being finalised, to inspire new advances in the use of data analytics and artificial intelligence for the evolution of District Energy, contributing to the achievement of the challenging European and global goals for decarbonisation and ecological transition.